COLUMBIA – Eric and Sheena Greitens' attorneys met on Thursday in an ongoing custody battle between the former couple.
The hearing took place at the Boone County Courthouse. Sheena Greitens was present in the courtroom, but Eric Greitens was represented by his council. 
Their attorneys said both parties have come to a temporary custody agreement through the beginning of the school year. Eric Greitens will have custody over the summer, while Sheena will have the children for three weekends and weekly 3-hour visits, according to an email from Eric Greitens' lawyer Gary Stamper.
Sheena Greitens' attorney, Helen Wade, said she is also calling for Eric Greitens to "denounce violence" in response to his U.S. Senate campaign advertisement that was uploaded on Monday.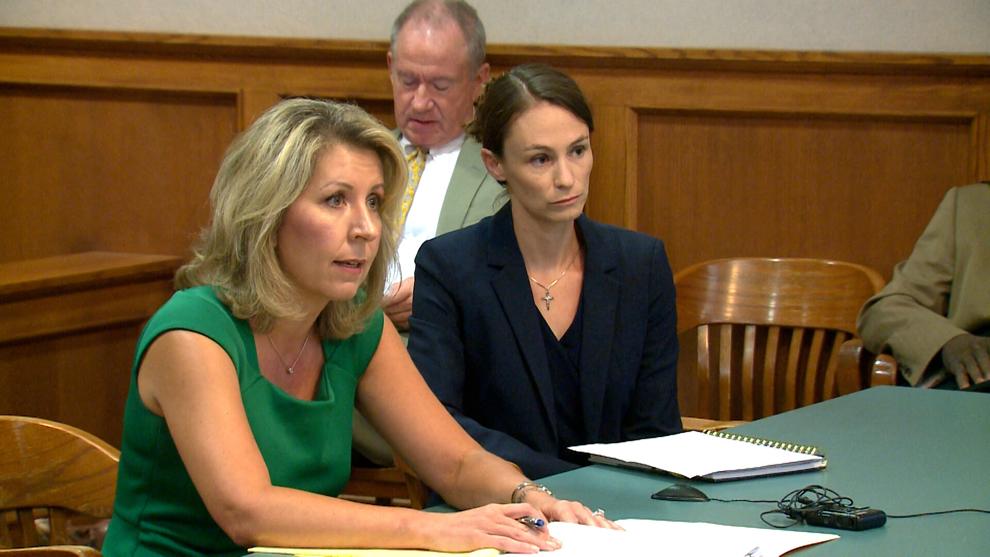 The ad shows Eric Greitens holding a gun and saying he is going "RINO" hunting. RINO stands for "Republican In Name Only." 
Wade said Sheena Greitens has received "some serious threats," including "death threats." 
"She is scared. This has not happened before," Wade said. "This video suggests the use of violence towards all RINOs. It's been denounced by the Fraternal Order of Police. It's been denounced widely, and it has created a situation where others may perceive it as a call to arms and that's been directly sent to her." 
Stamper said he thinks it's unfair this complaint was sprung on him in court Thursday, but that he will try and resolve the issue. 
"I'm convinced, and I want to tell the court and the mother and Helen there's no way that he wouldn't make a public statement addressing this issue or the unintended consequences," Stamper said.
After the hearing, Stamper provided a statement and said their team reviewed two documents provided by Sheena Greitens' legal team.
"… The entirety in which consisted of a vulgar email to her client from a pro-choice activist referencing coat hangers, and one tweet threatening Eric and his family," Stamper said.
Statement from Gary Stamper, Attorney for Eric Greitens: pic.twitter.com/FQojFX25nR

— Eric Greitens (@EricGreitens) June 23, 2022
The ad has since been taken down by Facebook "for violating policies prohibiting violence and incitement."
In an interview with KCMO on Tuesday, Eric Greitens defended the ad and said his team was "extraordinarily happy with the reception that it's had."  
Earlier this week, Wade told the Kansas City Star she plans to file Greitens' recent campaign ad as an exhibit in the case. T
Back in March, Sheena Greitens filed an affidavit accusing her ex-husband of abuse toward their children. She said she was scared for her children's safety in the months before Eric resigned as Missouri governor in 2018.
The judge is also still considering a request from Sheena Greitens to have the child custody case moved to Texas, where she currently lives and works.
The custody trial is set to begin on July 15. 
Related Posts